If you're looking for nutritious and delicious food for your cat then you can't go wrong with Meat Up cat food. This premium cat food is made with real meat and vegetables and is free of fillers artificial flavors and preservatives. Cats love the taste of Meat Up and you'll love knowing that you're giving them the best possible food.
Made with real meat (yep there are synthetic ones too!) and vegetables, this delicious cat food is packed with protein and essential vitamins and minerals. It's also grain-free and free of artificial flavors colors and preservatives. Plus it's affordable so you can feel good about feeding your cat the best food possible without breaking the bank.
Meat Up Cat Food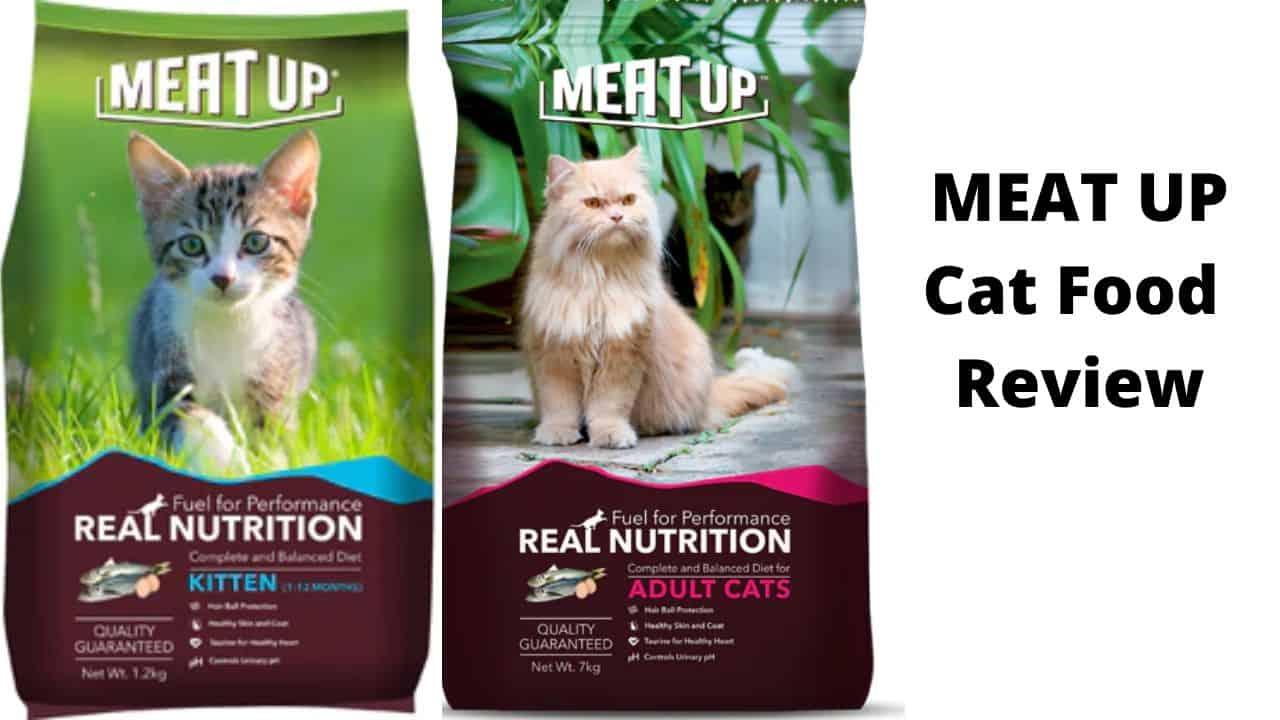 Made with real meat and vegetables
free of fillers artificial flavors and preservatives.
tasty and zero side-effects
Ingredients
Made from grass-fed beef chicken and lamb meat-up products are free of hormones antibiotics and other unwanted chemicals. This wet food is made with real meat and fish and is free of fillers artificial colors and flavors and preservatives. It's also grain-free and gluten-free making it a great option for cats with allergies or sensitivities. Plus, it's affordably priced and comes in a variety of flavors that your cat is sure to love. Also, they're packed with nutrients that your cat needs to stay healthy and happy.
Meat-Up is an economical cat food brand. It will surely make you spend much lesser than its competitors like Whiskas. Besides, Meat-up comes up with frequent discount schemes and offers like the buy one get one free. On average, you can avail of dry Meat-Up cat food for around Rs20/100g. The kibble is made available in packages of 1.2kg and a bundle of 2 or more. If you are looking for wet food pouches, they come in packs of 6, each of it weighing 70g. This pack will cost you Rs300. Even these bundles are made available on the buy one get one scheme.
Meat Up Brand Information
IB Group started its core poultry business in the city of Rajnandgaon, Chhattisgarh, in 1985. It began as a manufacturing and supplying business that catered to poultry feed, dairy products, refined oils, pet food, and aqua feed. Later in 1998, the company was incorporated in ABIS Exports Pvt. Ltd. and has been growing since then as one of the leading pet food brands in Central India.
Meat Up a cat food review
Pros
Low-budget
free of fillers artificial flavors and preservatives
tasty and zero side-effects
cats love the taste
Cons
some variants contain corn gluten meal and soy products
If you're looking for a high-protein grain-free cat food you'll want to check out Meat Up. This company makes all of its food in the USA using only the highest quality ingredients. The result is a delicious healthy food that your cat will love. I was impressed with how much my cats enjoyed this food and I didn't have to worry about them getting sick since it's made with such high-quality ingredients. I would recommend Meat Up to any cat owner looking for a nutritious grain-free option.
Meat Up wet cat food
There are a variety of wet cat foods on the market and each has its own set of benefits and drawbacks. Some brands are loaded with fillers and preservatives while others are made with all-natural ingredients.
Is Meat Up cat food good for cats?
There is some debate on whether or not meat byproducts in cat food are good for cats. Some people believe that they are a necessary source of protein and essential nutrients while others believe that they are nothing more than filler ingredients that do not provide any real nutritional value. Ultimately the decision of whether or not to feed your cat meat byproducts is up to you and your veterinarian.
Ultimately the best-wet cat food for your feline friend is the one that meets their individual dietary needs. If your cat is overweight you'll want to choose a wet food that is low in calories and fat. For cats with allergies or sensitivities, there are grain-free and hypoallergenic options available. Senior cats may require wet food that is easy to digest and packed with nutrients to support their aging bodies.
When it comes to choosing the best cat food it's important to read the label carefully. Avoid products that contain artificial colors flavors or preservatives. Instead, look for wet food that is made with real meat fish, or poultry as the first ingredient.
Buy Meat Up cat food online (Amazon)
Meat Up cat food variations for cats and kittens
Visit the website of Meat Up Pet
Conclusion-Petfather's rating of Meat up cat food brand
Meat-up seems to offer a decent cat food range. All the varieties offer protection against hairball, support the functioning of the heart, offer a good amount of protein, and have a balanced urinary pH. Besides, it surpasses all nutritional requirements of a cat. The only drawback is that it contains corn gluten meal and soy products. These are not considered to be healthy and should be avoided if possible. However, there have been negligible to zero instances where cats have suffered allergies or issues due to these being present in MEAT-UP cat food. Those few that happened, could be because of cats being shifted immediately to a whole new brand.
FAQs
Is Meat Up wet cat food good?
From the ingredients and macronutrient profile, Meat-Up cat food does seem to be worth a try. It contains adequate amounts of protein, vitamins, minerals, and essential amino acids to support your cat's long-term health.
Is Meat Up good for my kitten?
Meat-Up has a separate kitten food collection. Kittens have different nutritional needs than adult cats. Keeping this in mind, it is necessary to choose a cat food that is suitable for kittens. Also, kittens need more help boosting their immunity and fighting off allergens.
Latest posts by Tamal Dey
(see all)